Things to see and do on your visit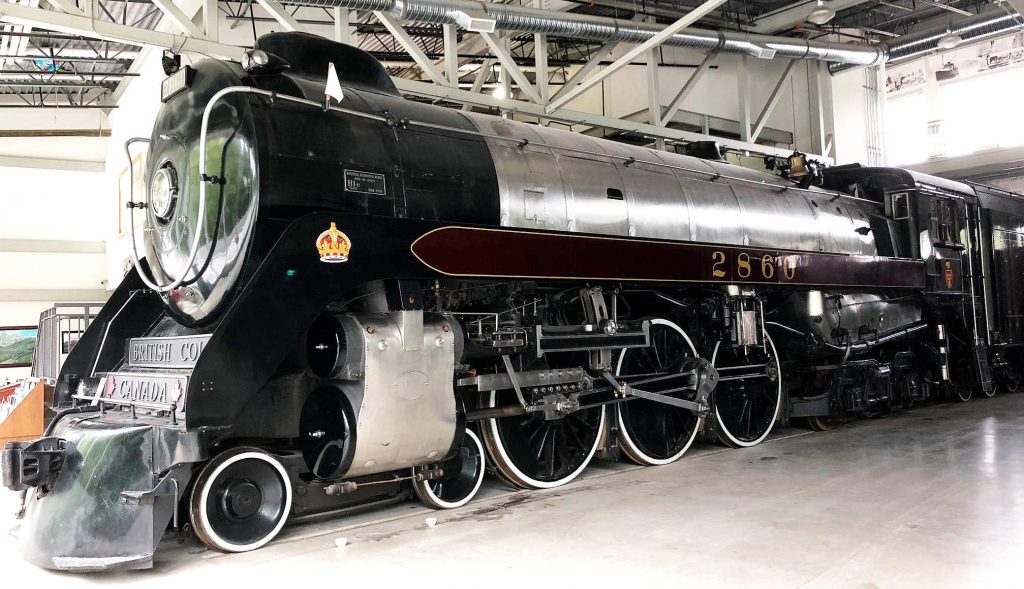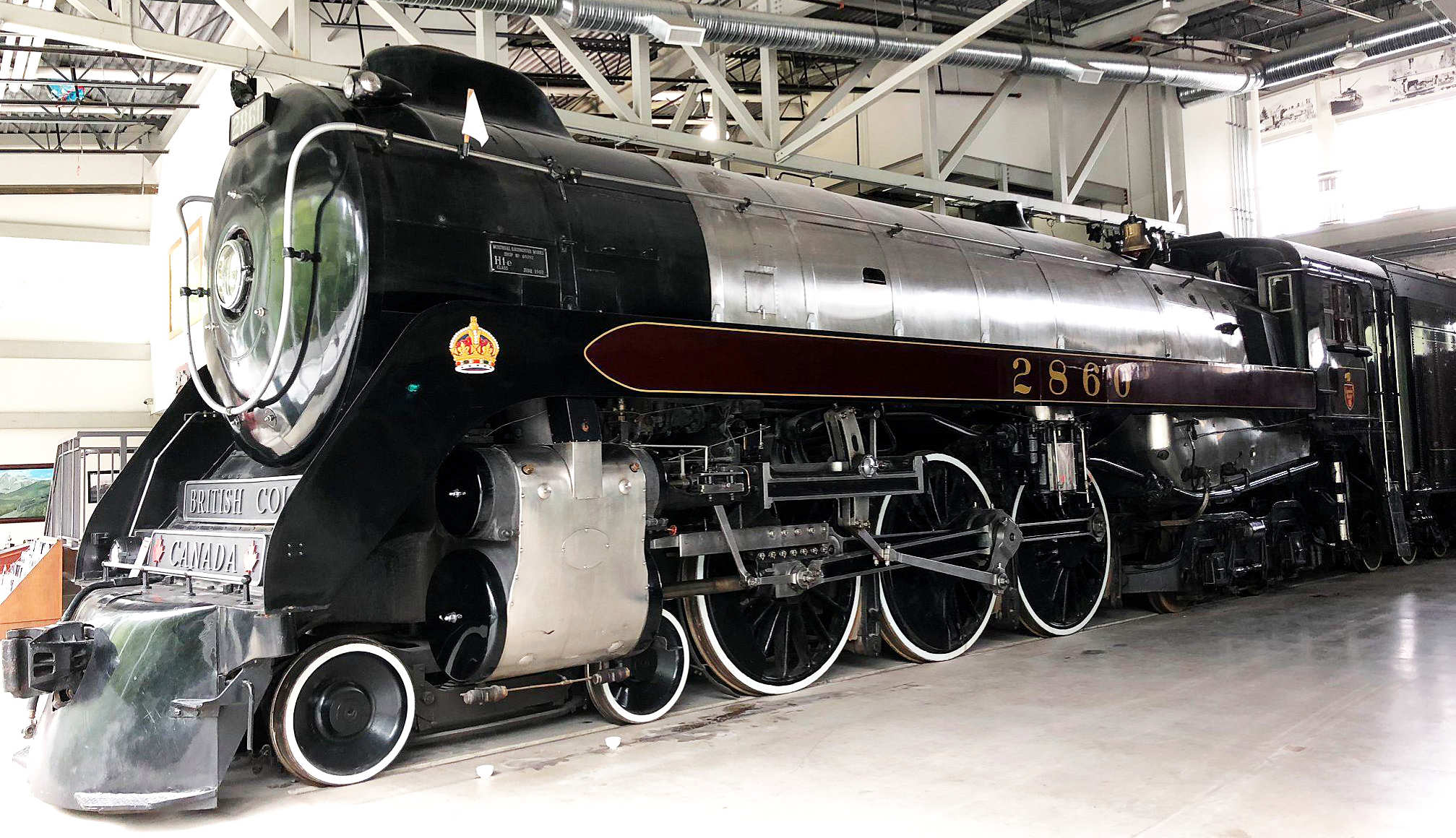 ROYAL HUDSON 2860 STEAM LOCOMOTIVE
The Crown Jewel of our collection, 2860 is one of 65 'Hudson' type 4-6-4 steam locomotives built for the CPR by Montreal Locomotive Works (MLW). This engine was finished in June, 1940.
See this magnificent locomotive inside the CN Roundhouse. Climb into the cab, ring the bell!
This series of engines was numbered 2800 to 2864, and the first was delivered in 1929. Starting with No. 2820, the Hudsons got the streamlining treatments so popular in the 1930's. No. 2850 (now at Exporail near Montreal) was assigned to haul the Royal Train during the visit to Canada by King George VI and Queen Elizabeth in 1939. The locomotive performed flawlessly and impressed the King greatly. The CPR received permission to designate the streamlined Hudsons "Royal" and eventually each locomotive was equipped with a crown fastened to their running boards.
The engine and loaded tender weigh 293,770 kgs (648,000 lbs) and has a tractive effort of 19,2004 kgs (42,250 lbs). It is capable of speeds of 144 kph (90 mph). The locomotive and tender have a total length of 27.27 m (90' 10"), and is 4.7 m (15' 10") high. The tender has a capacity of 54,600 litres (12,000 gallons) of water and 18,614 litres (4,1000 gallons) of fuel oil.
Five CPR Hudsons were saved, Nos. 2816, 2839, 2850, 2858 and 2860. Our No. 2860 was restored for a proposed Railway Museum in Vancouver. In 1974, the Province of British Columbia bought the locomotive for an excursion train. 'The Royal Hudson' ran on BC Rail track from North Vancouver to Squamish. In 2000, the province leased the engine to the district of Squamish for display and restoration at the West Coast Railway Heritage Park.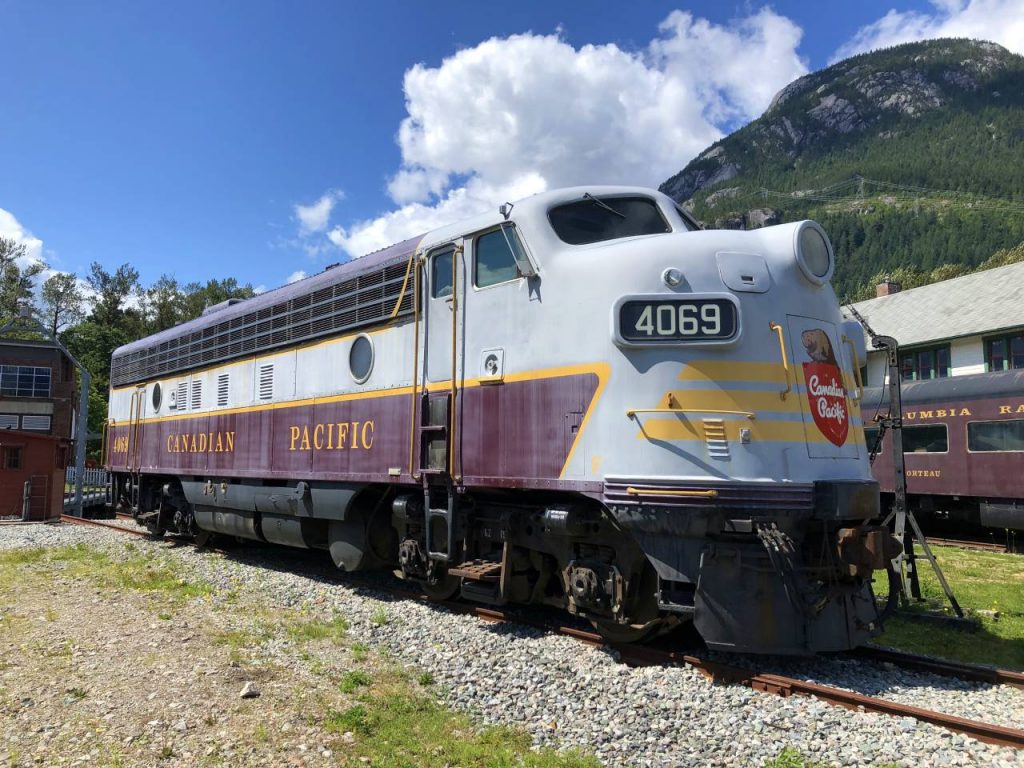 Our FP7A passenger locomotive was built by General Motors in London Ontario in 1952. Painted in classic CP maroon and gray, it's used to head up our vintage CP passenger cars.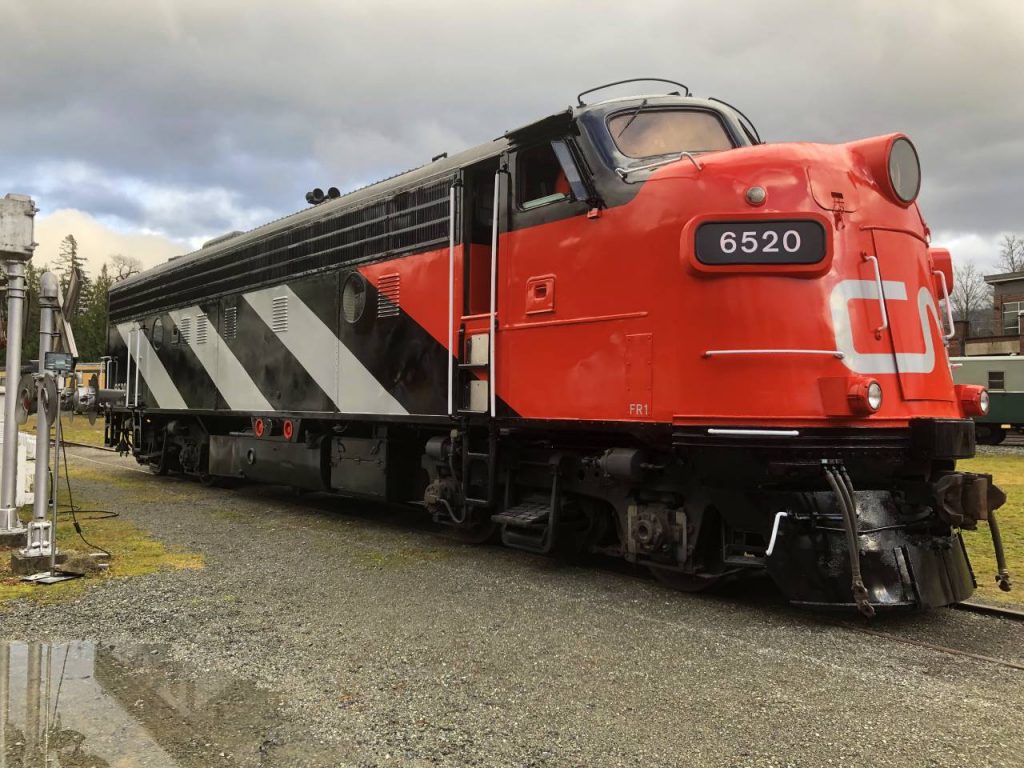 Canadian National 6520 FP9A Diesel
Recently repainted in the bold and striking 1961 CN scheme that it would wear for most of its career in passenger service, CN 6520 was revealed to the public in Squamish in November 2019, after several years of restoration and upgrades. Geared for a top speed of 89mph, CN 6520 was used to pull the finest regional and transcontinental trains of its time. It finished its career painted in VIA colours until it served again in CN Green and Gold in Ontario at the Waterloo & St. Jacobs Railway. It runs very well and will be one of our prime pieces of motive power for Dinner Trains and other special events.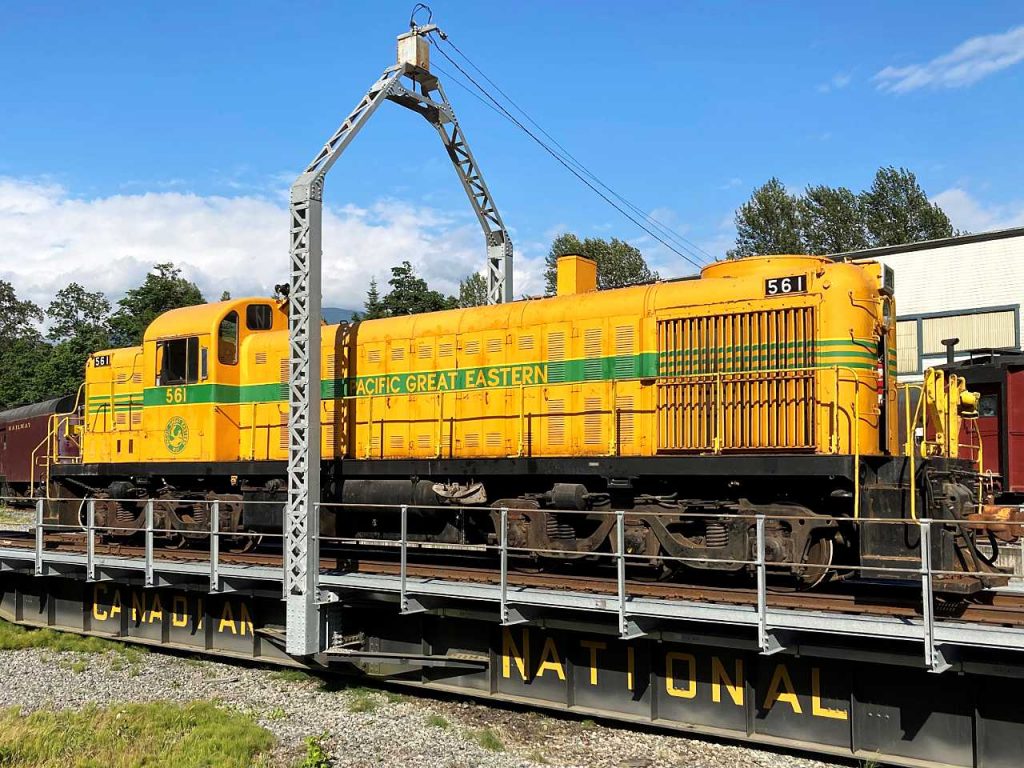 Pacific Great Eastern 561
Pacific Great Eastern 561 was built in 1951 by Montreal Locomotive Works. Putting out 1600 hp, the RS-3 is a freight workhorse, and is frequently seen in service at the park, switching trains in and out of the round house and turntable.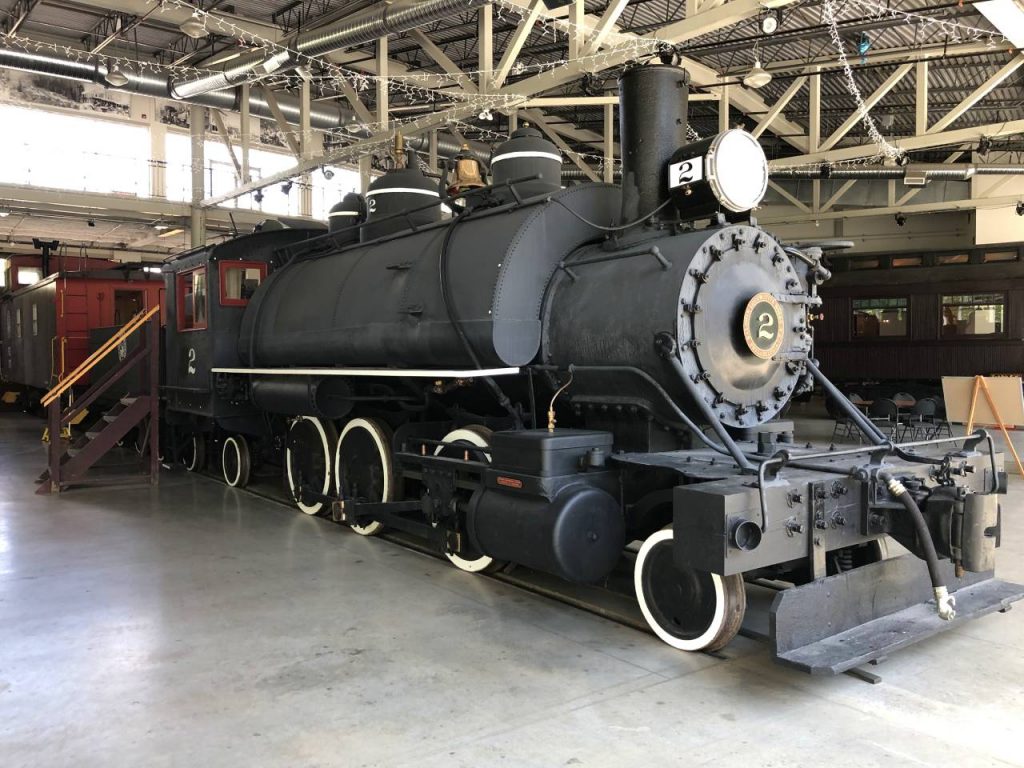 Pacific Great Eastern 2-6-2ST
Built by Baldwin Locomotive Works in Philadelphia, PA., in February 1910, this locomotive is a 'Prairie' type weighing over 90 tons in working trim and delivering about 22,000 lbs of tractive effort with a boiler pressure of 185 lbs. The cylinders are 16" x 24" and the engine is equipped with Stephenson valve gear.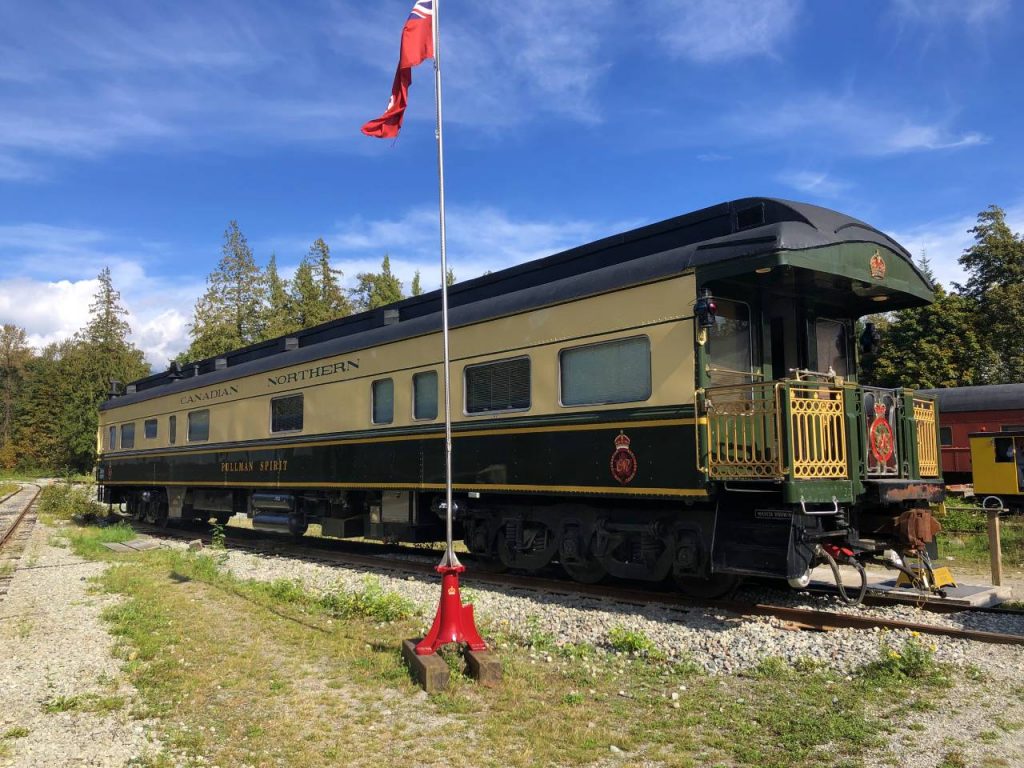 Pullman Spirit Observation Car
This beautiful passenger coach is privately owned by David Walmsley. The car has been personally restored and customized inside for style and comfort and is a tribute to the glory days of passenger service on the rails.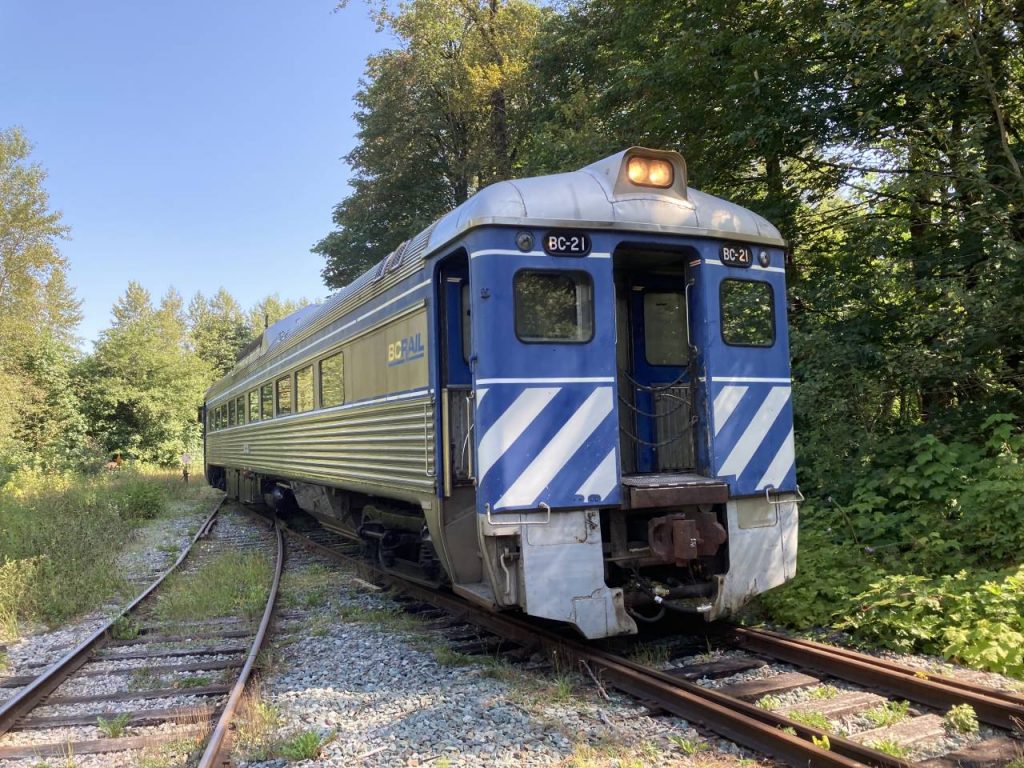 BC Rail Budd Diesel Rail Car BC-21
Check out our Rail Diesel cars! BC-21 is one of two operational units at our museum. BC-33 is the other. This unit is an RDC-1 configuration model.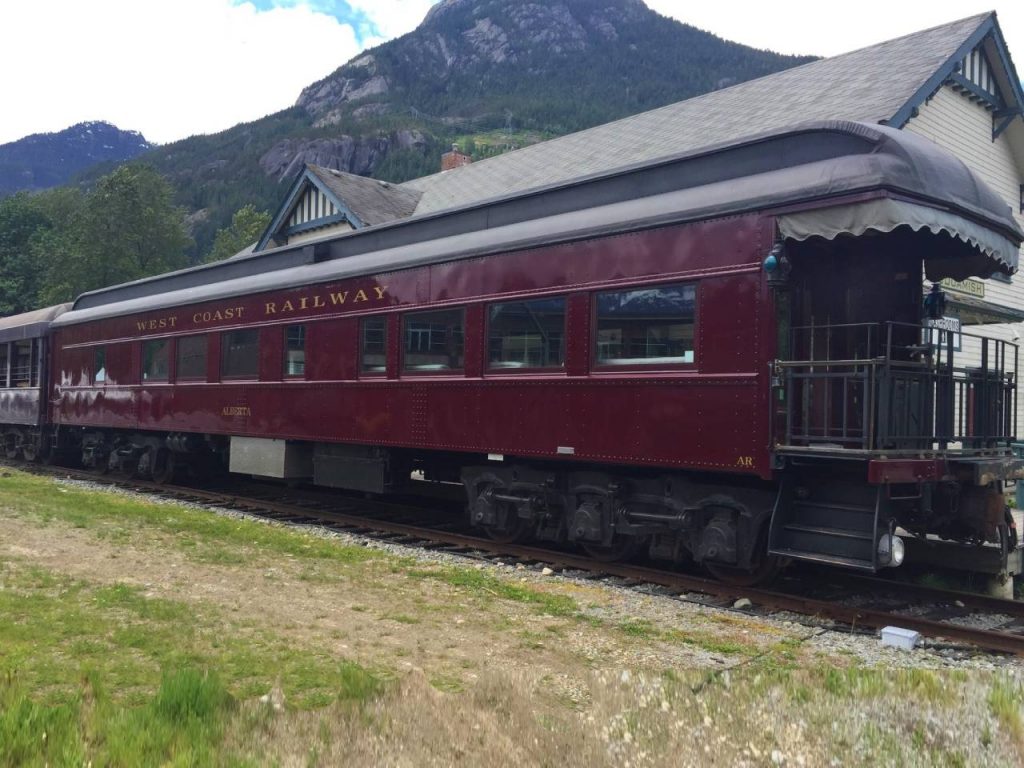 CPR No. 8 Alberta Business Car
The 'Alberta' was constructed in 1929 as a Business Car for the use of travelling railway executives and their staff, serving as an office, home and entertainment centre. National Steel car built the carbody of 'Alberta' and CPR completed the interior finishing at Angus Shops in Montreal. The 'Alberta' is a group of 10 cars built for divisional superintendents, each named after Canadian provinces.
When built in July of 1929, the 'Alberta' had many smaller rooms to accommodate the various needs of the executives. Similar to the 'British Columbia', this car has a varnished mahogany interior and many brass fittings. After retirement in 1970, modifications were done to make the car suitable for use as a restaurant. Bedroom partition walls were removed and the galley enlarged. In this current configuration, the car has a lounge with an open observation platform, a large dining area and galley. Fortunately the general ambience of the car's interior has been preserved.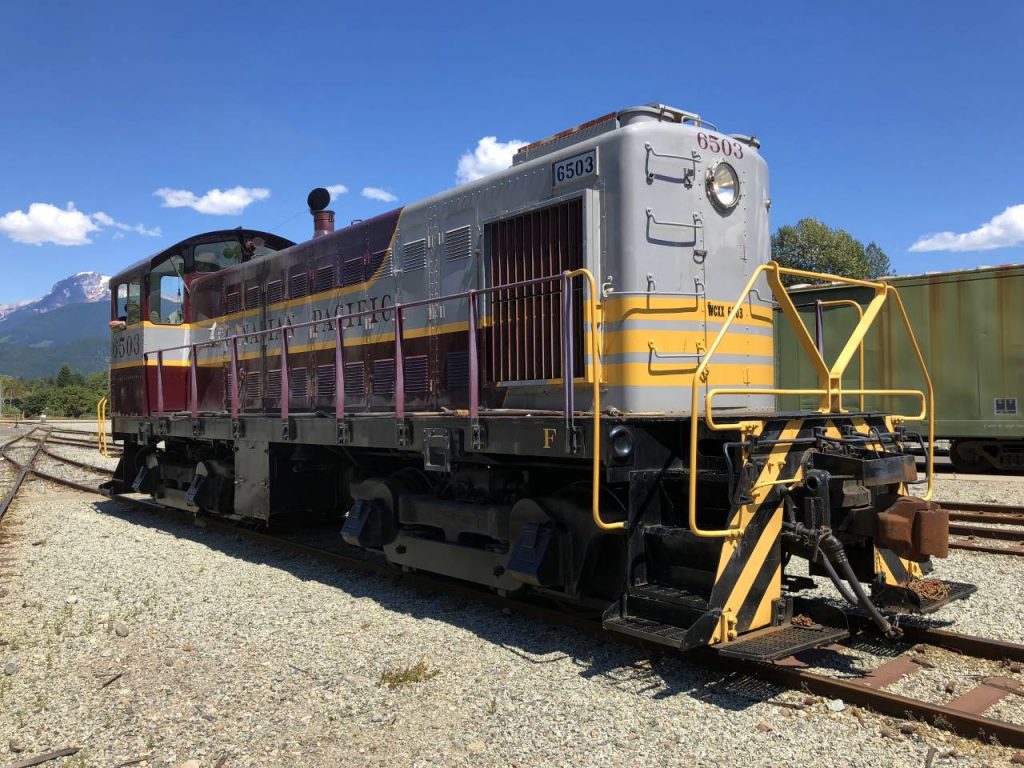 Canadian Pacific 6503 S3 Switcher
Our S3 was one of the first bought by Canadian Pacific to test the value of the 660 hp non-turbocharged switcher. No. 6503 was originally assigned to Winnipeg and proved to be sturdy and reliable. The engine has been modified with a buffer plate on the ends, over the coupler, in order to handle passenger cars. This locomotive served the CPR in various locations across Canada until 1983. The unit then sold to United Grain Growers terminals in Vancouver, switching grain cars until it was retired in 1987 and acquired by the WCRA.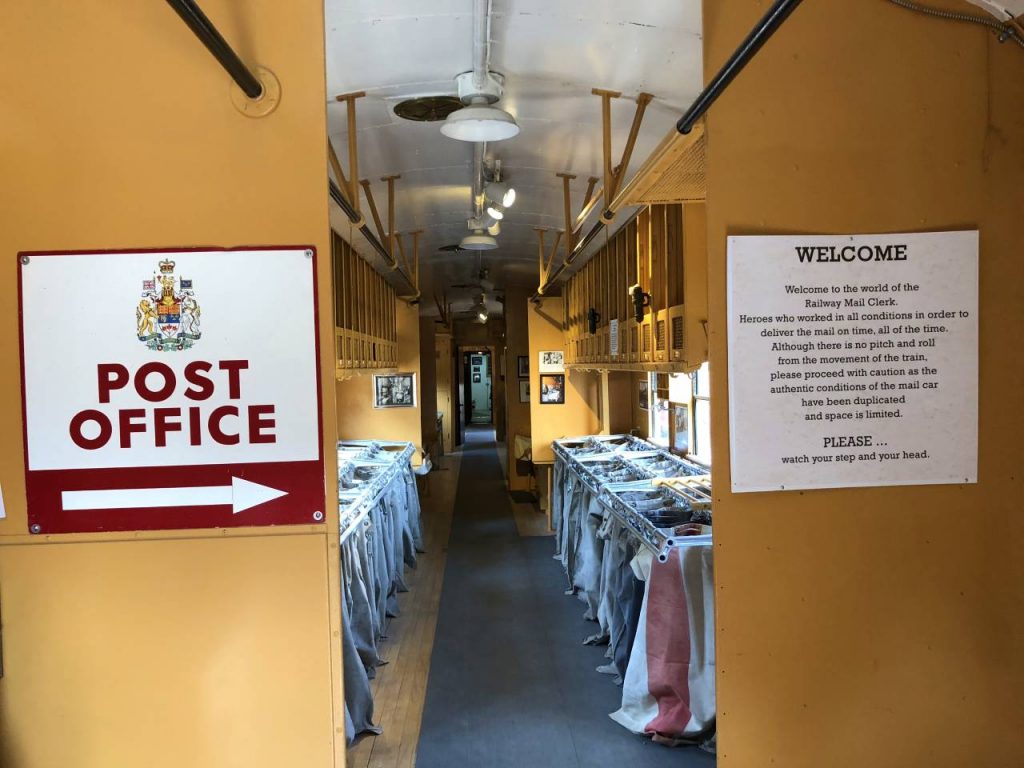 CPR BAGGAGE MAIL CAR 3704
Built in 1949, it has a 50' baggage compartment and a 30' mail compartment. BC Rail bought the car from CPR for work train service but never converted it. In 1998 the WCRA acquired the car for preservation. It has been restored by a team of Canada Post volunteers and now represents a typical working mail car. No. 3704 was part of a group of 10 cars rebuilt from standard Baggage mail cars in the 3600 series.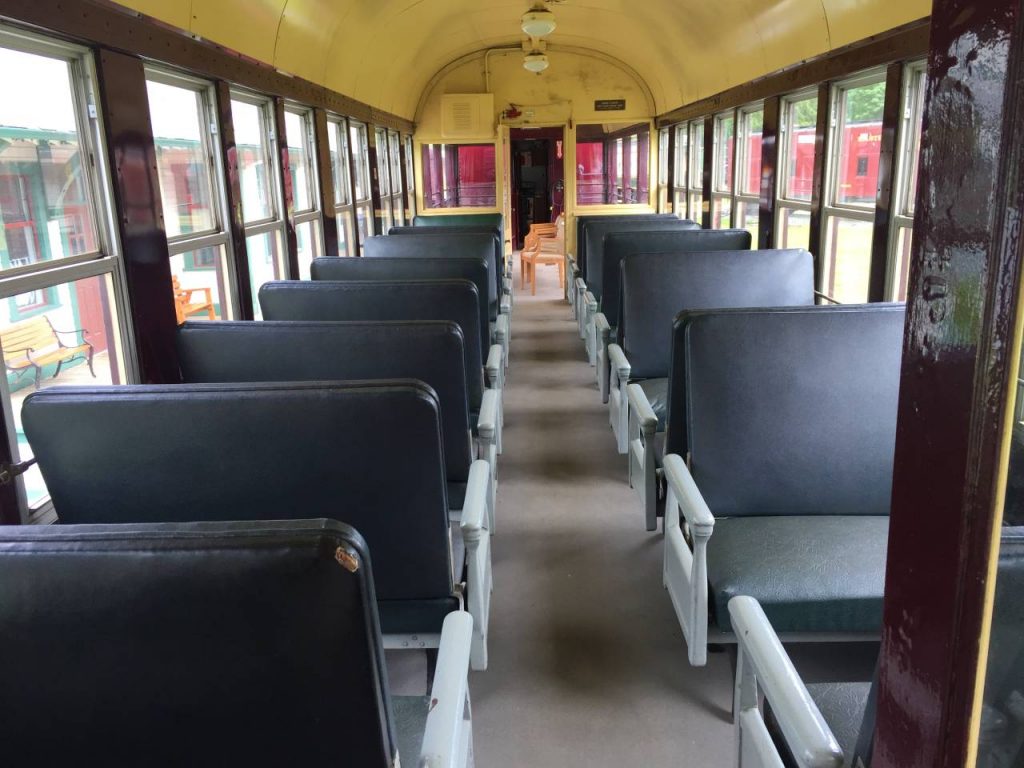 Henry Pickering Open Observation Car
The Henry Pickering has been riding the rail for over 100 years! Built in 1914 as part of the first order of all steel coaches for the Canadian Pacific Railway, this car was in continuous service until retired in 1955. It was rebuilt from coach No. 1422 to Open Observation car No. 598 in 1956 and used on the 'Mountaineer' train that ran from Vancouver to St. Paul, Minnesota. WCRA acquired the car in 1964. In 1974 the car was leased by the BC Government to be part of the Royal Hudson train. It was named Mt. Garibaldi and operated until the mid 1980's, and again in 2000 – 2001. Extensive restoration was completed in 2003. Renamed Henry Pickering, it has operated with the Rocky Mountaineer since 2004.