C.P.R. Engine 374 at Roundhouse Community Centre
CURRENT hours of operation: Thursday to Sunday, 11:00 am to 3:00 pm.
Canadian Pacific Railway (C.P.R.) Engine 374 is located in downtown Vancouver, along the shores of False Creek in Yaletown.
We are proud to present one of our finest and most historic locomotives in this unique urban setting as an extension of the collection in Squamish.
Get up close to this amazing piece of history. Climb into the Cab, ring the bell, lean out the window and call for 'all aboard' !
Thanks for joining us Sunday May 22, 2022 for our annual Engine #374 steam up event! We hope you enjoyed a great day.
Enjoy Engine 374 in this video!
Volunteers from the The West Coast Railway Association's Railway Museum of BC operate the 374 Pavilion as it is open to the public.
Canadian Pacific Locomotive 374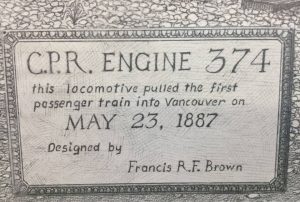 Canadian Pacific began to design its own locomotives in July 1883 with the hiring of F.R.F. Brown as the company's second locomotive Superintendent. Canadian Pacific opened new shops in Montreal, and the first locomotives were built in 1883.
Between May and July, 1886, a group of eight passenger locomotives, of 4-4-0 type and having 69 inch driving wheels were constructed and numbered 371-378. These were sent to the Pacific division to operate on the Cascade section between North Bend and Port Moody, and two of them figured in historical events.
The last spike for the CPR was completed on November 7, 1885 at Craigellachie, located several kilometres to the west of the Eagle Pass summit between Sicamous and Revelstoke.
No. 371, hauled the first Pacific Express into Port Moody on July 4, 1886. This was the first scheduled train to cross Canada from sea to sea.
No. 374, hauled the first passenger train, carrying 150 passengers, to go beyond Port Moody over the 12 mile extension to Vancouver on May 23rd, 1887, thus finally joining Canada from East to West.
While No 371, still essentially in its original form, was scrapped in October, 1915, Engine No. 374 had a different fate. In September, 1914, it was selected for a complete rebuilding; it was an almost completely new locomotive, built upon the main frame of the original 1886 locomotive. No. 374 was given an additional thirty year lease on life and remained in revenue service until July, 1945, when it was retired.
Then the locomotive was donated to the City of Vancouver as a memento of the original 374. Prior to delivery to the city, Canadian Pacific gave it a cosmetic treatment to make it look "old". The necessity to remove some modern technology to achieve this goal rendered the locomotive permanently inoperative.
After delivery to Vancouver, No. 374 was made the responsibility of the Park Board for care and custody and was placed on a section of track at Kitsilano Beach. The next 38 years were perhaps the saddest chapter in the life of this engine. It remained in the park largely forgotten and ignored, the victim of rust and vandalism. Although a few volunteers attempted to maintain her, a lack of money, interest and proper shelter took their toll on the engine. In 1963, a vain attempt was made to move into the former aircraft hangar where the Community Music School is now located in Vanier Park.
A new life for Engine 374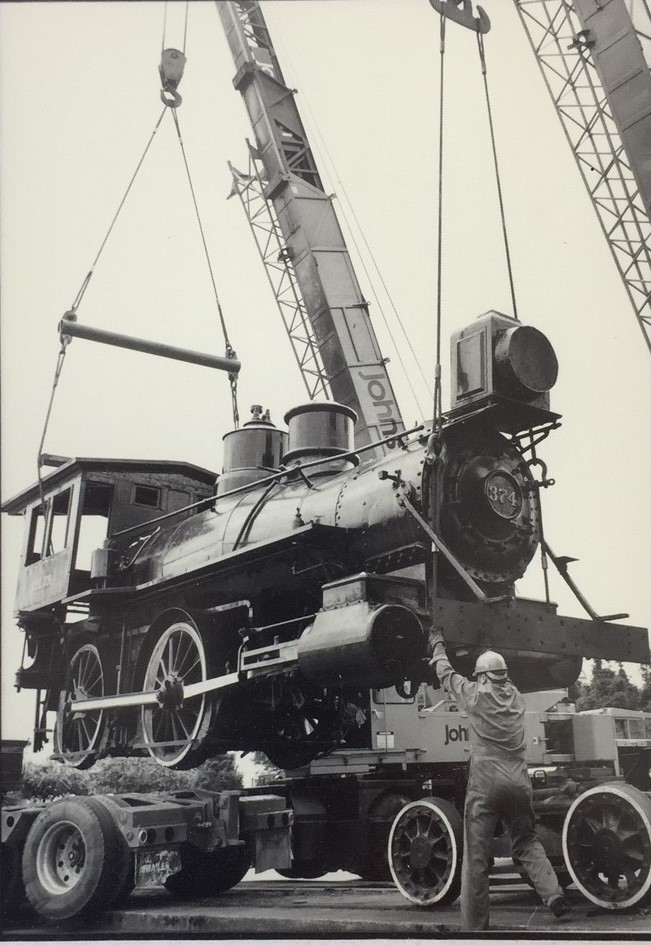 Then in 1981, the West Coast Railway Association and the Canadian Railroad Historical Association began to promote the saving and restoration of the No. 374, and by 1983 had raised funds for a badly needed cosmetic restoration. The locomotive was removed from Kitsilano and placed in a warehouse on Granville Island, where teams of dedicated volunteers worked on her for two years. In 1985, the engine was transported to North Vancouver's Versatile Shipyards for final restoration. Addition funds to accomplish this were partially raised through the Heritage Brick Program sponsored by Imperial Oil Limited.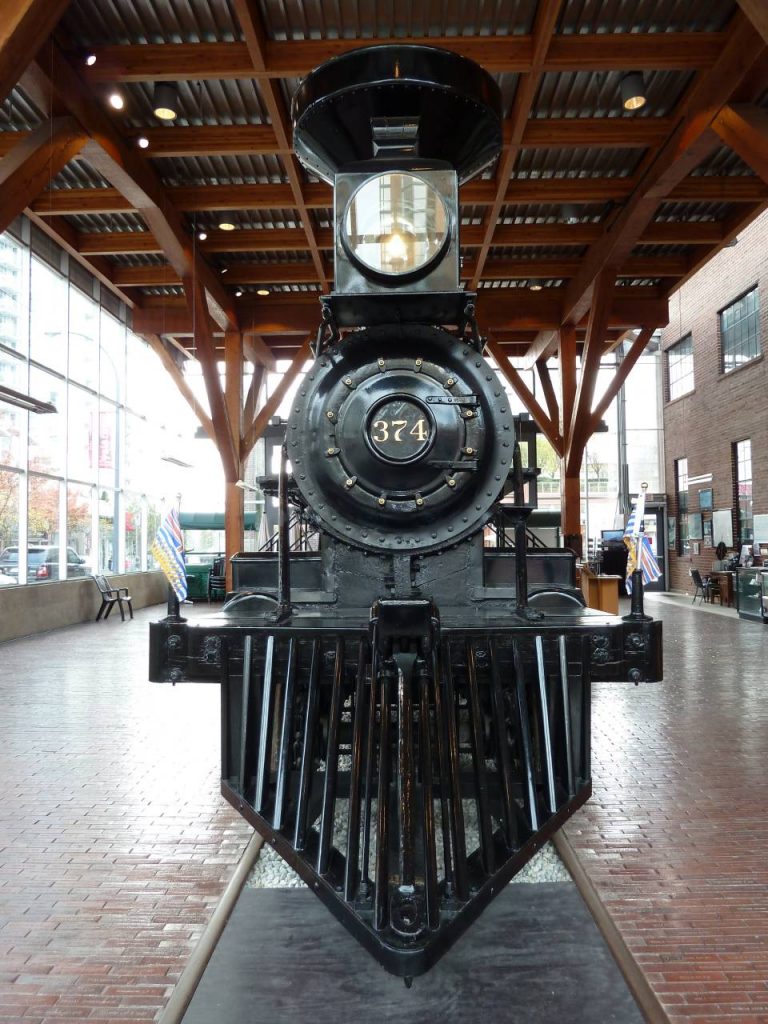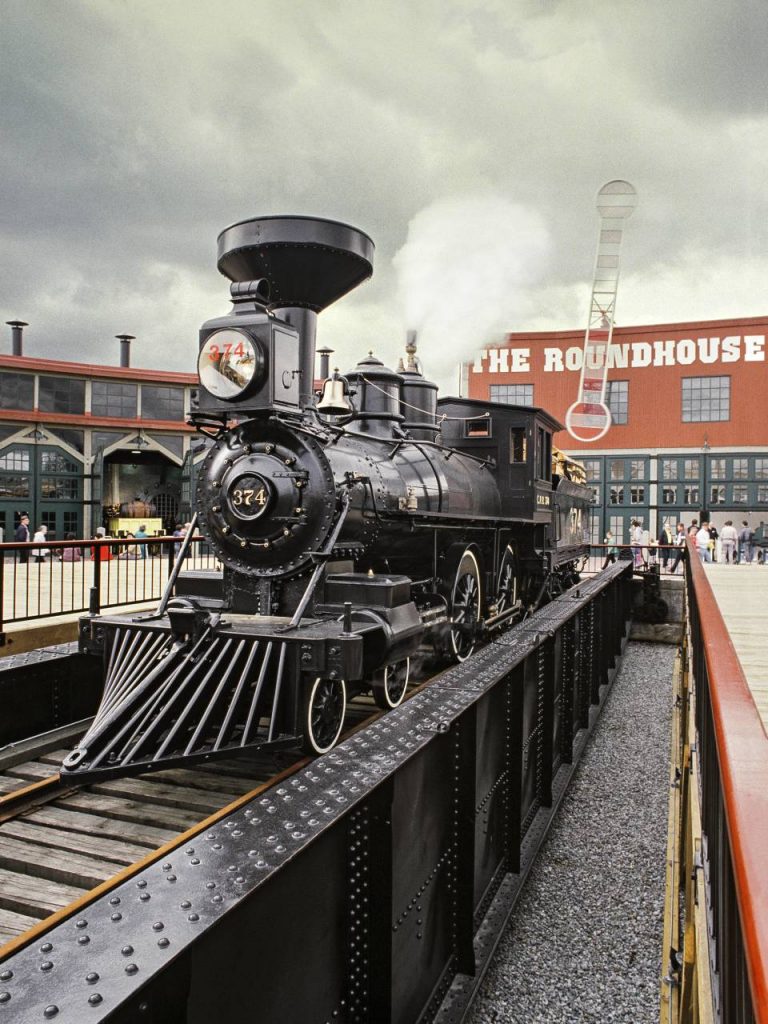 Expo 86 provides a new home for Engine 374
On February 13, 1986, No. 374 was transported to the Expo 86 Roundhouse Site, there, restored to its former glory, it was a fitting tribute to Vancouver's historic transition from "Milltown to Metropolis". In May, 1988, volunteers were allowed access by Concord Pacific Developments to examine, clean and polish No. 374, to weed between the Heritage Bricks and set up arrangements for a public opening. During 1988-1990, the public was invited to the Roundhouse Courtyard to view the engine and the Heritage Bricks.
Canada's most historic steam locomotive, Engine 374, faced an uncertain future. Except for a few shining moments at Expo 86, it's been out of steam ever since. As part of its development, Concord Pacific has converted the Roundhouse into a Community Centre, giving both the building and surrounding area park land to the Parks Board. The Park Board proposed a new building, the 374 Station Pavilion, at the Roundhouse Community Arts & Recreation Centre in Yaletown, Vancouver. This became a reality in the 1990′s, as the 374 found its new home.